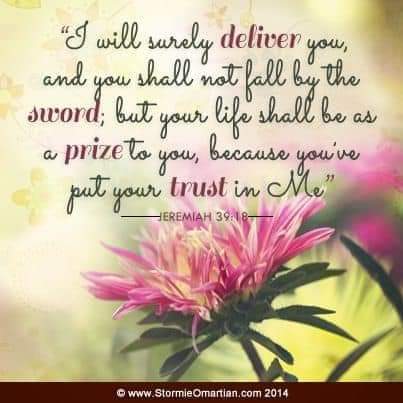 EMPOWERING LIVES WITH PURPOSE:
God's protection over you is sheltering you this very minute. Whether you are on the battlefield or experiencing deliverance at this moment, God has you covered.
God promises to be "a shield to those who put their trust in Him." (Proverbs 30:5)
Do you realize He can even be a shield to someone you pray over? Yes! Because of your faith!
I pray over my children and grandchildren every day and trust God that by my faith, He moves on my prayers for them! I pray over my husband every morning for His safety and protection over the content of his day. We don't even think sometimes of the specific dangers that lurk over our cherished ones, but praying a covering over them and us each morning is a vital protection.
God promises to "give His angels charge over you, to keep you in all your ways. In their hands they shall bear you up, lest you dash your foot against a stone." (Psalm 91:11,12)
Accidents happen, even to godly people, but prayer for protection needs to be ongoing. May God give you wisdom on what to pray as the enemy is prowling around your life, trying to take you out.
The good news is God is our protector. He is always with you.
"In times of trouble He shall hide me in His pavilion; in the secret place of His tabernacle He shall hide me; He shall set me high upon a rock."(Psalm 27:5)
Go there with God!