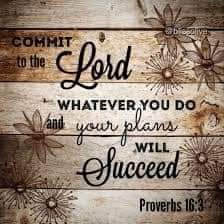 EMPOWERING LIVES WITH PURPOSE:
Today's guest writer: Laurie Sammarco, Pembroke Pines, Florida.
(2 Chronicles 16:9)
"For the eyes of the Lord range throughout the earth to strengthen those whose hearts are fully committed to Him."
Our bodies can grow tired, our minds can give way to defeat and our hopes can weaken by the many trials we face but just one word from the Lord can exchange those thoughts. You can reclaim your victory in the Lord. He has the power to strengthen and bring about results that can change your perspective. All that is taken is given back tenfold. Nothing is bleak in the eyes of the Lord for His hands have brought about perfection in everything He touches.
We may ask "How much more Lord?" and He responds by giving His all. He wants to see you give Him as much as He's given. By giving your all, submitting all your fears, mistakes, hurts, and trials, He, in turn, shifts the patterns of destruction to those of miraculous change.
Tired of fighting those inner offensive thoughts, those insecurities that drown you in sorrow, those inadequate feelings of unworthiness?, well- get mad! Pick up the armor of God and fight the battle in God's strength dear one. Don't give in to the standards of this world. Hold on to the rod and staff of the Lord that provides rest, security in your every step, and guidance throughout the hardest of trials.
 Never has there been a battle more worthy of fighting than that which saves the soul from being forsaken. God will redeem you and give you the courage and durability to focus your thoughts on Him and the power that radiates from Him. Lean on Him, trust in Him, seek His face, and don't give up! God will bless you as you commit yourself to Him.
Guaranteed.