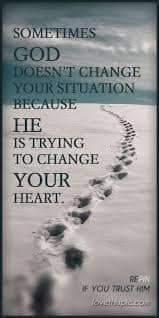 EMPOWERING LIVES WITH PURPOSE:
Guest Writer: Laurie Sammarco Pembroke Pines, Fl.
"Therefore, we do not lose heart. Though outwardly we are wasting away, yet inwardly we are being renewed day by day for our light and momentary troubles are achieving for us an eternal glory that far outweighs them all. So we fix our eyes not on what is seen but what is unseen, since what is seen is temporary, but what is unseen is eternal." ( 2 Cor. 4:16-18) NIV
God is all about change and change is sometimes uncomfortable because we are so set in our ways.
Even though change is needed in order to be more like Jesus, we feel comfortable with what we know and are accustomed to.
 God wants more for you but most of the time that means we have to take an in-depth look at ourselves and admit what our weaknesses are.  We need to give it to God so He can begin the process of transformation.
 Yes, it's a lot of work and emotionally it can wear us down, but oh the benefits of leaving behind those burdens that weighed you down for so many years. It's exhilarating and uplifting.
 Change is good and God is better. Don't be afraid of taking a step into the unknown, for what is unseen is the hope of eternity and a future that does not involve worries. Especially the worries of this world which bring weight.
 Change is totally different and contrary to what we've become accustomed to. Although the years that this life offers are few and we don't know when we will take our last breath, what matters is that we live fully in God's grace.
 Let us prepare our hearts for what is to come and live out God's will. Don't be afraid of the changes God makes. Even if you have to do it afraid, do it. What follows this change will bless your life.